Before to start any setup on the printer we need to collect different informations regarding dimensions and requirements. For this reason, I collected from some interesting web sites and video (YouTube) some interesting stuff you can use for this scope. First of all you need to write on a piece of paper the following metrics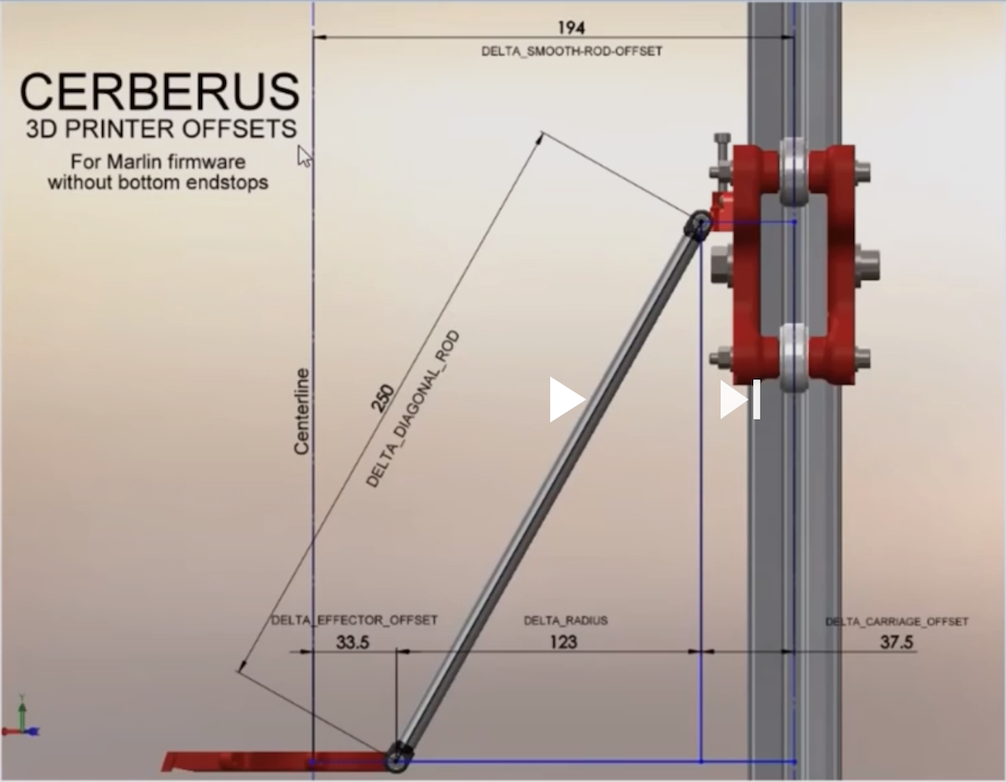 Once you've collected all those information you can go
here
and download the last updated version of the merlin firmware Unzip it. You will find in the Merlin folder another folder called "Example Configuration". In this folder you will find different configuration files.
Configuration files are the files you need to change when you recompile the merlin firmware to adapt merlin algorithm to your printer. Go into the folder Delta and select Kossel XL. This is the firmware Config file I used. This configuration has the Zprobe option already active.
Now replace the two config files in the merlin folder with these two new files and open Arduino editor in order to start changing the right parameters.
If you need to learn how to compile an arduino sketch or if you need to set-up your development environmnet, you can use the
tutorial
I built for this
Edit the configuration file in particular you need to change the following parameters (raw number is indicated in the cirle):
This setting determines the communication speed of the printer. 250000 works in most cases, but you might try a lower speed if you commonly experience drop-outs during host printing. [2400, 9600, 19200, 38400, 57600, 115200, 250000]
My configuration is: 250000
Selects which electronics board you have. Choose the name from boards.h that matches your setup
My Configuration is: BOARD_RAMPS_14_EFB. This is the standard configuration if you use ramps 1.4 with arduino 2560 You need to configure here the correct parameter representing you extruder temp sensor (in the source code you will find different option but you need this value from your vendor) This parameter represent the sensor number provided to you from the bed vendor This option prevents extrusion if the temperature is below EXTRUDE_MINTEMP. It also enables the M302 command to set the minimum extrusion temperature or to allow moving the extruder regardless of the hotend temperature.
NOTE: IT IS HIGHLY RECOMMENDED TO LEAVE THIS OPTION ENABLED!
My configuration is: 10 just to check that it works Confirm that it is a delta configuration Center-to-center distance of the holes in the diagonal push rods.
My configuration is: 250 205 41 22 Print surface diameter/2 minus unreachable space (avoid collisions with vertical towers). My configuration is: 100 Specify here all the endstop connectors that are connected to any endstop or probe. Almost all printers will be using one per axis. Probes will use one or more of the extra connectors. Leave undefined any used for non-endstop and non-probe purposes Default Axis Steps Per Unit. In my case is 80. in order to calculate this value you need to count the number of tooths on your gear (in my case it is 20) and go on the following
web site
. It is the prusa web site and this calculator has been made available by the prusa printer web site My configuration is :80 ZProbe options are available starting at raw 625. Those raws will allow you to auto bed level your printer. However, there are different parameters you will need to configure. To procede easily, please, look directly at the source code available in the config file you will finde socket_set_timeout interesting comments to follow Once configured all these parameters, before to compile give a look at the display you configured (starting from raw 1314) and to the Endstops format (Pull up or not) starting from raw 506
EndStops Configuration
EndStops configuration could became very complex and for this reason give a look at the following
configuration web page
prepeared for this occasion